The Friday Meal Continues During COVID-19 Safer at Home Order
All are welcome! Meals continue to be made available on Fridays, from noon to 1:00 pm in the form of carry-out. We take to heart the advice to avoid gathering in groups as we fight the spread of coronavirus. For the health and safety of our guests, volunteers and staff, meals will be prepared and served in to-go containers. Guests enter at the southwest entrance by St. Mark's playground to pickup their meal. Physical distancing is maintained. Please wear a face mask. If you don't have one, we will provide one. The dining area is closed.

The Friday Meal Meets Every Friday
From Noon to 1:00 PM.
Sometimes people come to the Friday meal for economic reasons.
At other times people come to see friends, for companionship and to be a part of a community.

Several congregations, businesses and organizations in the Madison area alternate helping with the meal, serving and cleaning up including:

All Saints Lutheran Church, Fitchburg
Attic Angels, Middleton
Bethel Lutheran, Madison
Bonnet Prairie Lutheran Church, Rio
Chef Joel Olson, Madison
Covenant Lutheran Church, Stoughton
CUNA Mutual, Madison
Dean SSM, Madison
Lake Edge Lutheran Church, Madison
Salem United Church of Christ, Verona
St. John's Lutheran Church, Evansville
St. Mark's Lutheran Church, Madison
St. Matthew's New Life Lutheran Church
Trinity Lutheran of Lake Mills
Trinity United Methodist, Madison

This is in addition to individuals who volunteer.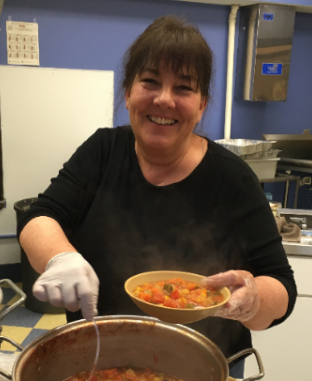 Friday Meal Coordinator
Elaine Bogen
Contact Elaine:
Phone: 608-256-8463
Email: StMarks@StMarksMadison.org